Posted on Tue Nov 06, 2018 12:07 pm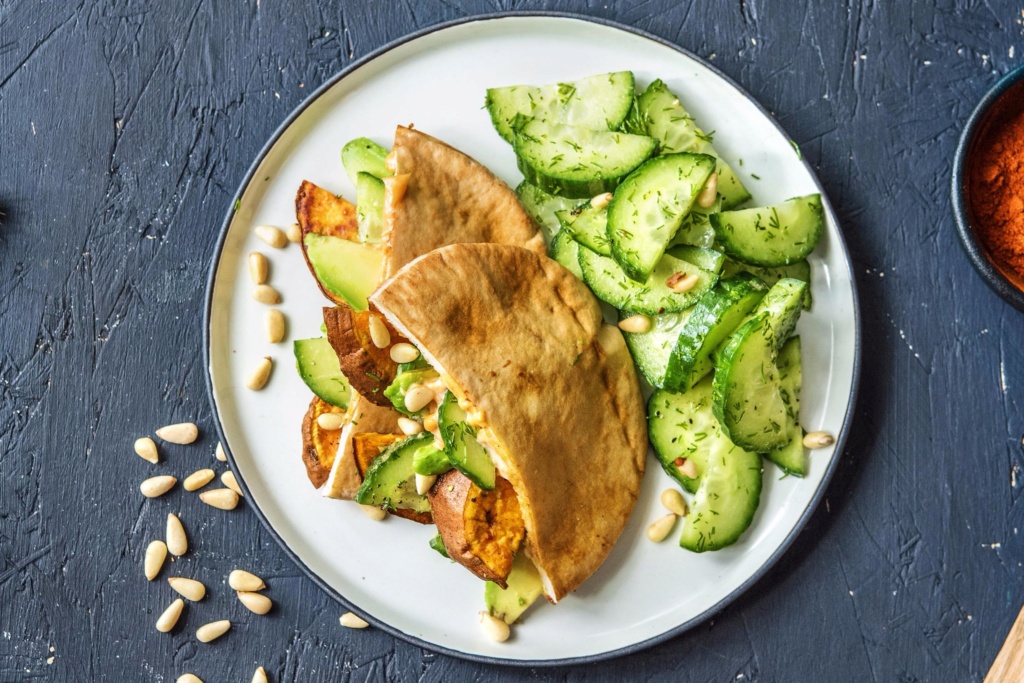 All hail the pita! It holds pretty much anything you put in its roomy pockets, making it among the most capacious of breads. So if you're going to make a pita sandwich, it better be fully loaded. This one does not disappoint: in addition to rounds of roasted sweet potato, it's packed with slices of creamy avocado, an herby cucumber salad, pine nuts, and a spicy harissa mayo.
Preparation Time
30 minutes
Cooking difficulty
Level 1
(ContainsEggs)
(ContainsWheat)
(ContainsTree Nuts)
Not included in your delivery
1
Wash and dry all produce. Adjust rack to middle position and preheat oven to 450 degrees. Slice sweet potatoes into ¼-inch-thick rounds. Toss on a baking sheet with a drizzle of olive oil, 1 tsp harissa powder (we'll use more later), and a pinch of salt and pepper. Roast in oven until tender, about 20 minutes, flipping halfway through.
[size]
2
[/size]
Mince or grate 1 clove garlic (we sent more). Halve cucumber lengthwise, then slice into thin half-moons. Pick and roughly chop enough fronds from dill to give you 2 tsp. Halve, pit, and peel avocado, then thinly slice.
[size]
3
[/size]
In a small bowl, combine 3 TBSP mayonnaise (we sent more), a pinch of garlic, and a pinch of harissa powder. Give mixture a taste and add more garlic and harissa powder as desired. Season with salt and pepper.
[size]
4
[/size]
In a medium bowl, toss cucumber, chopped dill, vinegar, a drizzle of olive oil, and a pinch of salt and pepper.
[size]
5
[/size]
Cut pitas in half to create 4 pockets and place on another baking sheet. When sweet potatoes are almost done, after 18-20 minutes of roasting, put pitas in oven. Toast until warmed through but not crispy, 2-3 minutes. TIP: If there's room, you can place pitas on the same baking sheet as sweet potatoes instead of on a second sheet.
[size]
6
[/size]
Spread harissa mayo inside each pita half, then fill with sweet potatoes, avocado, a few pine nuts, and a small amount of cucumber salad. Divide stuffed pitas between plates. Add remaining cucumber salad to the side and sprinkle with remaining pine nuts.